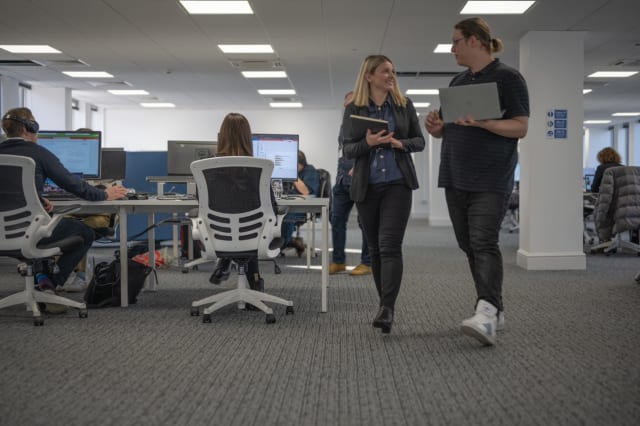 Published: 25/08/2022
Employee Spotlight: Work Experience with Netacea's Data Scientists
Yasmin Duggal

, Cybersecurity Content Specialist, Netacea
2 minutes read
As part of our Employee Spotlight series, I sat down with Sam, a recent work experience student at Netacea, for a quick-fire Q&A on what drew him to a bot management company and how the experience has helped shape the next steps in his education.
Tell us a bit about your background and current studies.
I'm currently in sixth form studying Maths, Further Maths, Physics and Philosophy at A-level.
Have you always had an interest in data science? Or cybersecurity?
I've always had an interest in programming, not specifically data science or cybersecurity, but this work experience has made me realize how interesting both areas are.
How did you come to do your work experience at Netacea?
I was looking for anything that would allow me to get a sense of software development and was lucky enough to know someone at the company who I could do my work experience with.
What did you work on while you were here?
I mainly worked with the Data Science team and got an overview of everything they were doing, helping out with bits and pieces of their work.
How was it working alongside the data scientists?
It was interesting to see all the different aspects of data science, but also to see how they worked together as a team despite all having different roles and goals. I also got a chance to spend time with the Data Analysts who showed me what their job entailed and how they went about solving problems they encountered.
What would you say are your key learnings from your time here?
I learned how broad an area both data science and cybersecurity are which was something I hadn't appreciated before. I also learned how much collaboration there is within the different teams, even between areas of the team with seemingly different goals.
Has your time here influenced what you might do next with your career?
I was already considering studying computing at university but this has helped me understand what opportunities are available after graduation.
Biggest challenge?
There was a lot that I had to try and understand in the short time that I was there and definitely could've spent longer getting to grips with some areas.
Biggest highlight?
Getting to know different people from all the teams and seeing that even if problems frustrated them at times, they all got enjoyment out of the work.
Interested in data science or joining another team at Netacea? Check out our current vacancies.
Schedule Your Demo
Tired of your website being exploited by malicious malware and bots?
We can help
Subscribe and stay updated
Insightful articles, data-driven research, and more cyber security focussed content to your inbox every week.
By registering, you confirm that you agree to Netacea's privacy policy.