Stop the attacks that others miss
See first-hand how we give you zero day protection with our agentless bot solution.
Detect 6x more threats

Zero day protection

Easy setup and CDN integration

0.001% false positive rate
Advanced bot management solution for brands
Cutting-edge technology and expertise to stop bots
Machine learning, data science, and threat research combine to deliver a best-in-class bot mitigation service. Here's how:
Prevent 100% of zero-day OWASP attacks automatically
Netacea's advanced bot management gives you visibility and control over human and bot traffic without negatively impacting the flow of business critical traffic.
Protect your apps, websites and APIs
Undetectable by your attackers
Automated protection from the newest threats
Industry leading bot expertise
Built to tackle the sophisticated bot attacks you face every day
Account takeover

Credential stuffing

Sneaker and scalper bots

Web scraping

Card cracking

Loyalty point fraud

Fake account creation

Skewed marketing analytics
Visualize and control bot attacks in real time
With Netacea's easy-to-use dashboard, you can redirect or challenge attacks in real time. This is done invisibly without disrupting legitimate customer experience.
Netacea's agentless bot management approach beats agent-based every time
Netacea analyzes billions of interactions for user intent - instead of using JavaScript agents and SDKs - to identify automated signatures and stop OWASP threats.
And our tech is effective: We're six times more accurate than other bot mitigation solutions.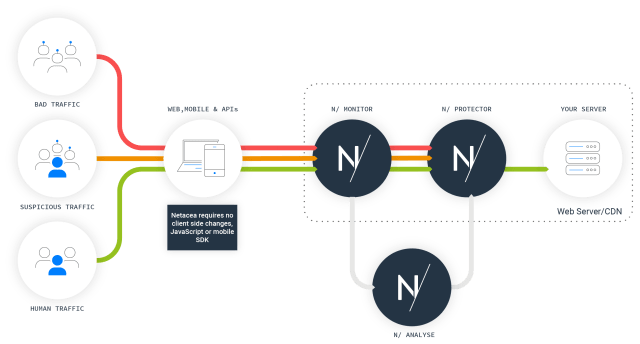 Easy to deploy and manage
Our cloud-based approach allows for rapid deployment, elastic scalability and high performance with out-of-the-box plugins for most major CDNs, load balancers and web platforms.
Integrate with major CDNs
Fast deployment
Reduced maintenance costs
What our customers think:
"The best bot protection!"

We saw 49% more carding and account takeover attacks than PerimeterX/Human. Agentless in nature, easy to test, and even easier to implement.

"Excellent company - real experts"

"Excellent company - real experts in their field. We have successfully blocked scraping bots - reducing website load and preventing downtime."

"My world is much quieter now!"

"From having regular security incidents to nothing really happening is great. Looking at the mitigation graphs, lots happening, nothing getting through!"

"Excellent product, great team"

"Amazing bot detection and mitigation capabilities with a very low rate of false positives. Great customer service and support team."

"Great supplier, very talented"

"The professionalism of the team and company as a whole in delivers an excellent service for us, not only day to day, but on our key events."

"Great product and great service"

"Our on-call engineers can now rest easier at night knowing that automated and proactive threat blocking from Netacea is taking action in near real-time against numerous attacks."
Schedule your demo
Beat automated threats quickly and accurately, without agents
Protect all your attack surfaces from zero-day bot attacks, with Netacea's agentless bot management.
Zero-day protection
Zero agent maintenance
Zero bots
Book demo