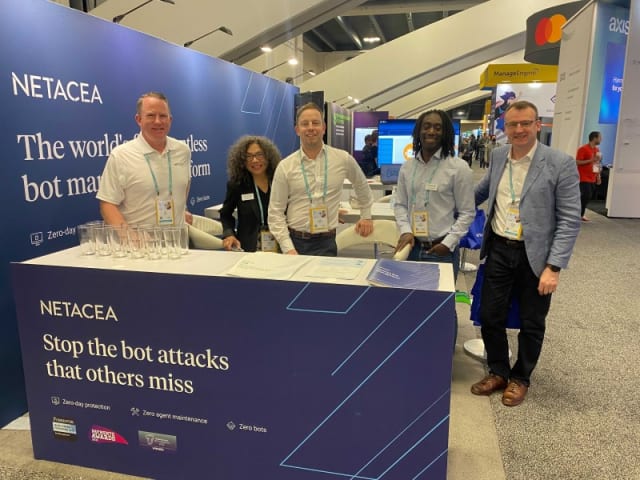 Published: 17/06/2022
RSA Conference 2022: Netacea's Highlights
Alex McConnell

, Cybersecurity Content Specialist
4 minutes read
Last week Netacea team members from the UK and across the US converged at RSA Conference, the biggest event in the cybersecurity calendar, at the Moscone Center in San Francisco.
It was a pleasure to talk to so many likeminded security professionals at our booth, and an honor to be given a speaking session from which to spread the word about automated threats.
We've picked out a few highlights, and advice for those looking to go for their first RSA Conference next year – maybe we'll see you there!
RSA Conference highlights
Netacea speakers Matthew Gracey-McMinn and Cyril Noel-Tagoe delivered their presentation, 'Automated Threats: The Rise of Bots and What to Do About It' to a packed hall, and had plenty of positive feedback afterwards.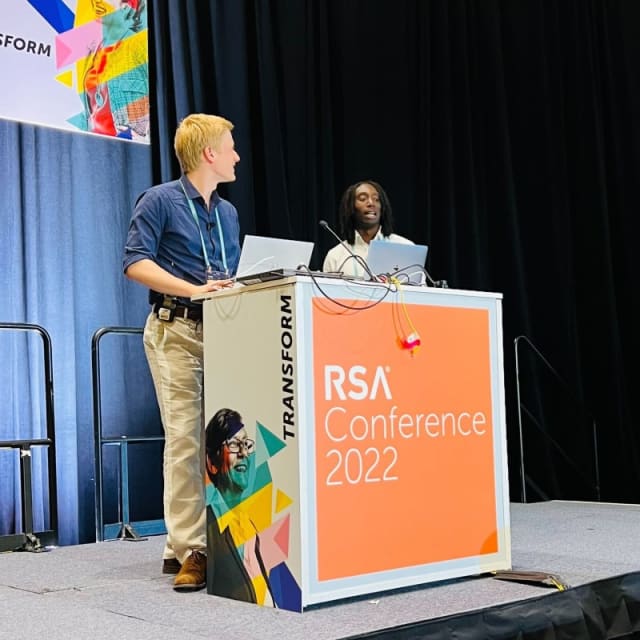 Netacea RSA presentation
The pair was also on hand at the Netacea booth throughout the event demonstrating simulated credential stuffing attacks in real time, opening many eyes to the ease and speed of such threats.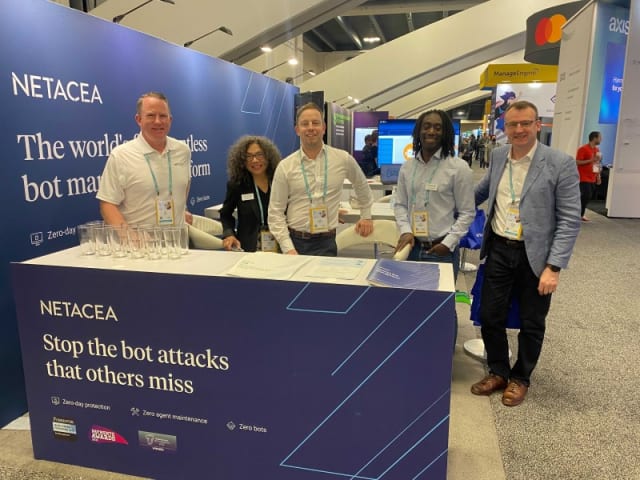 Netacea RSA booth
We were also thrilled to have found fresh collaborators for our open source BLADE Framework™, which is fast becoming recognized as an industry standard for distinguishing, categorizing and modeling business logic and automated attacks.
Always learning – Our pick of the presentations
RSA Conference is all about learning from pioneering speakers. Here are some highlights from tech talks we attended:
'Pain in the Apps' by Matt Radolec from Varonis: Matt covered three types of attacks targeting SaaS products. Our threat research team thinks their learnings from this presentation will make excellent content for tabletop training exercises.
'American Labyrinth' with speakers from the FBI, the US Department of Justice and Microsoft: A fascinating look into how the US government approaches nation state attacks, always relevant but especially so in the current global climate.
'Cyber Range on a Budget' with Rick Trilling from Wentworth Institute of Technology: In the fight to get senior management and others in businesses to understand the severity of cyber-threats, cyber range exercises are a powerful way to demonstrate how your business might cope with breaches.
Finally meeting face to face
It would be impossible to talk about RSA Conference without mentioning the impressive scale of the event. The sheer number of extraordinary vendors and solutions available to the 40,000+ attendees is a testament of the strength of the cybersecurity industry, from the ever-popular giants down to lesser-known gems represented on the exhibition hall floor.
The Moscone Center was a who's-who of cybersecurity, and a unique chance to meet up with many Netacea customers, partners and collaborators, including Netacea podcast and webinar guests Roger Grimes (KnowBe4) and Adam Kujawa (Malwarebytes). We even rubbed shoulders with network engineering pioneer and Internet Hall of Famer Radia Perlman.
Aside from technical discussions and catching up with the latest solutions, we jumped right into taking part in booth attractions and giveaways, with our highlight being the F1 driving simulator provided by Splunk. Unfortunately, Senior Account Manager Danielle Acuna just missed out on winning a Honda Ninja motorcycle – Maybe next year!
Danielle did, however, get the chance to share her RSA experience on the Click Here podcast (at around 20 minutes in).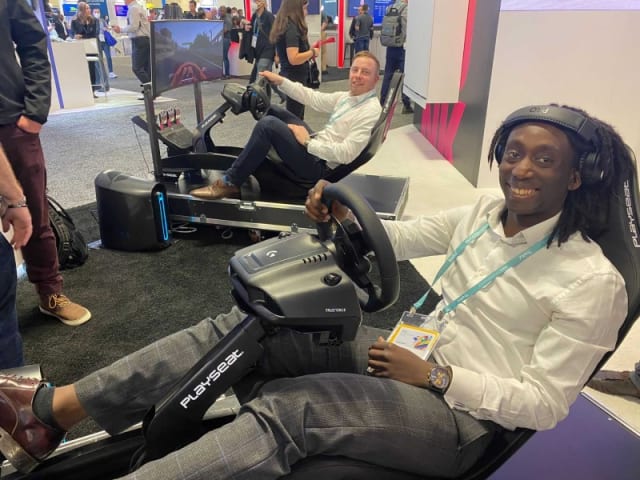 RSA F1 challenge
Out and about in sunny San Francisco
Outside of the walls of the Moscone Center, we were able to enjoy the sights and local culture of San Francisco.
The team caught a few sports events, including a San Francisco Giants baseball game. Basketball fan Cyril also lived out a dream by watching his team, the Boston Celtics, take on local favorites the Golden State Warriors as part of the NBA Finals at Chase Center on his birthday week.
Cyril, Matthew, and Marketing Director Josh Bradley also made the most of the scorching west coast sun, embarking on a 30km bike trek. None of them will soon forget cycling across the Golden Gate Bridge!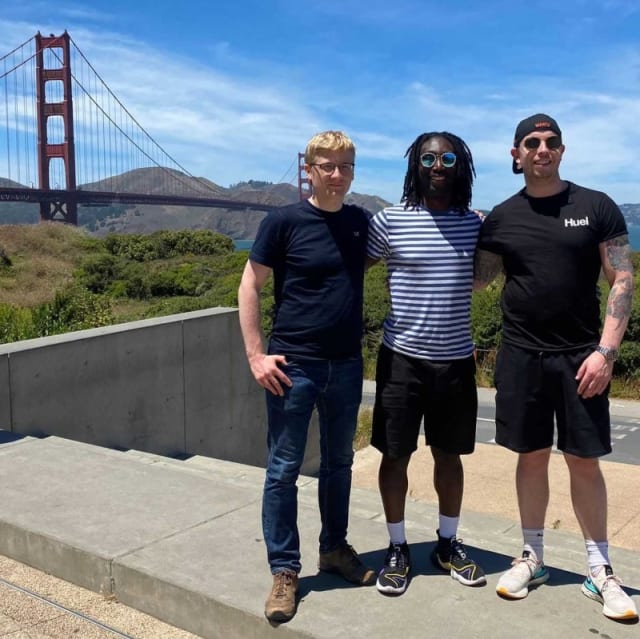 Netacea at Golden Gate Bridge
Top tips for RSA first timers
Plan ahead and prioritize your time
RSA is a huge conference and time is at a premium. Decide which presentations you want to see and get in line early, as seating fills up fast for the popular sessions.
Book travel and accommodation early
Decide you're going, then book ahead. RSA is hugely popular, and hotels quickly get fully booked!
Travel via Pedicab
Two-passenger pedicabs are a fun, eco-friendly way to get from the hotel to the conference center, with many trips sponsored by RSA. Just make sure you don't ask your driver to go up any of San Francisco's notoriously steep hills – and leave a nice tip!
Take in the sights
There is so much more to RSA than what can be found within the walls of the Moscone Center. Venture outside the immediate area and you'll find excellent places to eat in the Mission and Hayes Valley neighborhoods.
Schedule Your Demo
Tired of your website being exploited by malicious malware and bots?
We can help
Subscribe and stay updated
Insightful articles, data-driven research, and more cyber security focussed content to your inbox every week.
By registering, you confirm that you agree to Netacea's privacy policy.