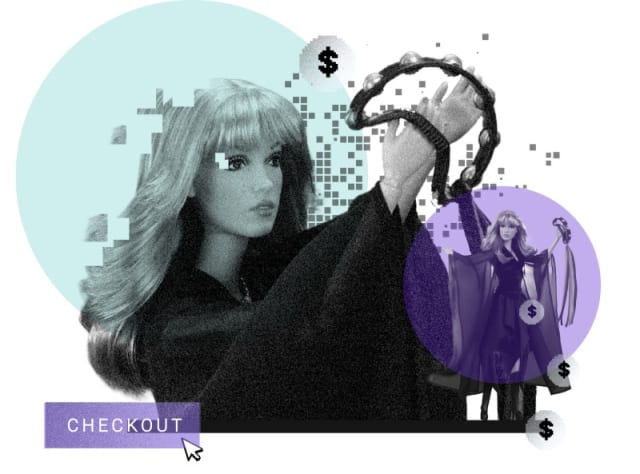 Published: 14/11/2023
Scalpers Force Barbie Collectors to Pay up to 1,200% More for Stevie Nicks Doll
Alex McConnell

, Cybersecurity Content Specialist
3 minutes read
Scalpers aren't just interested in snagging the final Yeezy drops, the newest Air Jordans or tickets to see Taylor Swift on tour. They've also been saying "Hey, Barbie" to the latest Mattel collaboration with rock icon and Barbie enthusiast Stevie Nicks.
Evidence gathered by Netacea suggests that scalper bots were involved when pre-orders for the limited-edition Stevie Nicks Barbie, unveiled by the Fleetwood Mac legend during a recent concert, sold out almost immediately.
This has made Ms. Nicks a real "gold dust woman", as although the doll is priced at $55 (£45) at large retailers like Amazon, a quick eBay search reveals fans have forked out as much as £600 for the collector's item – a staggering 1,233% markup.
Scalper bots' involvement: More than rumors
While there's no doubt that demand for the doll was high amongst collectors, scalper bots were clearly responsible for the speed of the sell-out, with some advertising their ability to grab available stock before regular users, according to intel gathered by the Netacea threat research team.
We've also seen huge volumes of traffic on a retail customer's website specific to the Stevie Nicks Barbie from the day the presale launched (and sold out) through to now.
Upon going on sale, traffic to the product page received nearly six million view in just three days, with a large percentage of the requests being identified automatically by our bot detection algorithms as automated – indicating scalper bots at work trying to snatch as many of the available preorders as possible.
Although the doll was quickly listed as "sold out", bots don't stop; even over a month later, there is still a persistent barrage of requests across the retailer's web page, mobile app and API related to the item – with over a million requests to the item a day being identified as automated. This indicates continual scraping attempts with a view to scalping the doll once again as soon as it is restocked.
Break the chain of scalper bots
Thankfully our Intent Analytics® engine has continued to block scalper bot traffic for our customer, reducing not only the volume of malicious traffic that might otherwise affect their system's performance, but also ensuring a fairer experience for Fleetwood Mac and Barbie fans alike.
Blocking scraper traffic to product pages means we break the scalper bot kill chain as defined in the BLADE Framework. Each business logic attack must go through several stages to succeed, from resource development to reconnaissance and defense bypass through to the attack itself. By disrupting the early stages of the scalping attack, our bot blocking strategy ends the attack before it starts.
What else are scalpers targeting?
Netacea keeps tabs on scalper and sneaker bot groups, publishing our Scalper Bot Index each quarter. These reports run down he top five most scalped items, which over the years has included sneakers, PlayStation 5 consoles, graphics cards and concert tickets.
The most recent Index, covering Q2 of 2023, focused on the massive interest scalpers had in snapping up and reselling two of the final Yeezy drops following adidas parting ways with controversial brand ambassador Kanye West. This meant the Yeezy Slide Onyx took our top spot, with the $70 item reselling at an average 168% markup, netting scalpers $118 per pair flipped.
Schedule Your Demo
Tired of your website being exploited by malicious malware and bots?
We can help
Subscribe and stay updated
Insightful articles, data-driven research, and more cyber security focussed content to your inbox every week.
By registering, you confirm that you agree to Netacea's privacy policy.